Ottimizza la tua rete informatica
TSplus Server Monitoring vi aiuta a ottimizzare la vostra infrastruttura informatica, se conviene spostare alcuni utenti da server sovraccarichi a un server sottoutilizzato, e la pianificazione a lungo termine dell'evoluzione dell'infrastruttura IT etc.
TSplus Server Monitoring ha costi di licenza competitivi, bassi requisiti di formazione e spesso non richiede modifiche all'infrastruttura IT! Le licenze sono per server monitorato.
Out-of-the-box, mostra i dati più utili estratti dal vostro server e dal vostro sito web.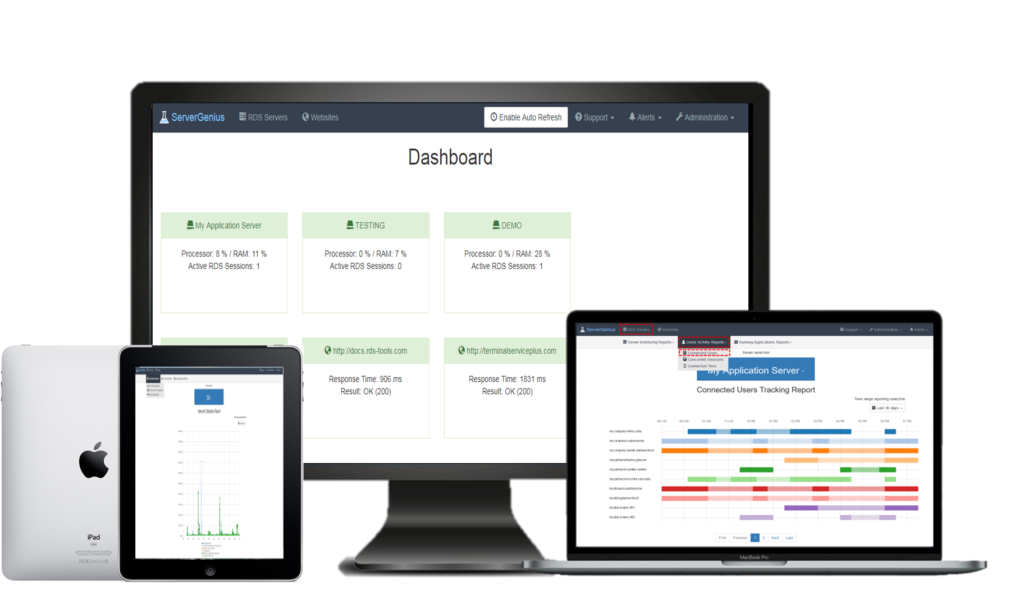 installazione in 30-secondi

Rapporti e avvisi in tempo reale

Permette di risparmiare sui costi
Come funziona TSplus Server Monitoring?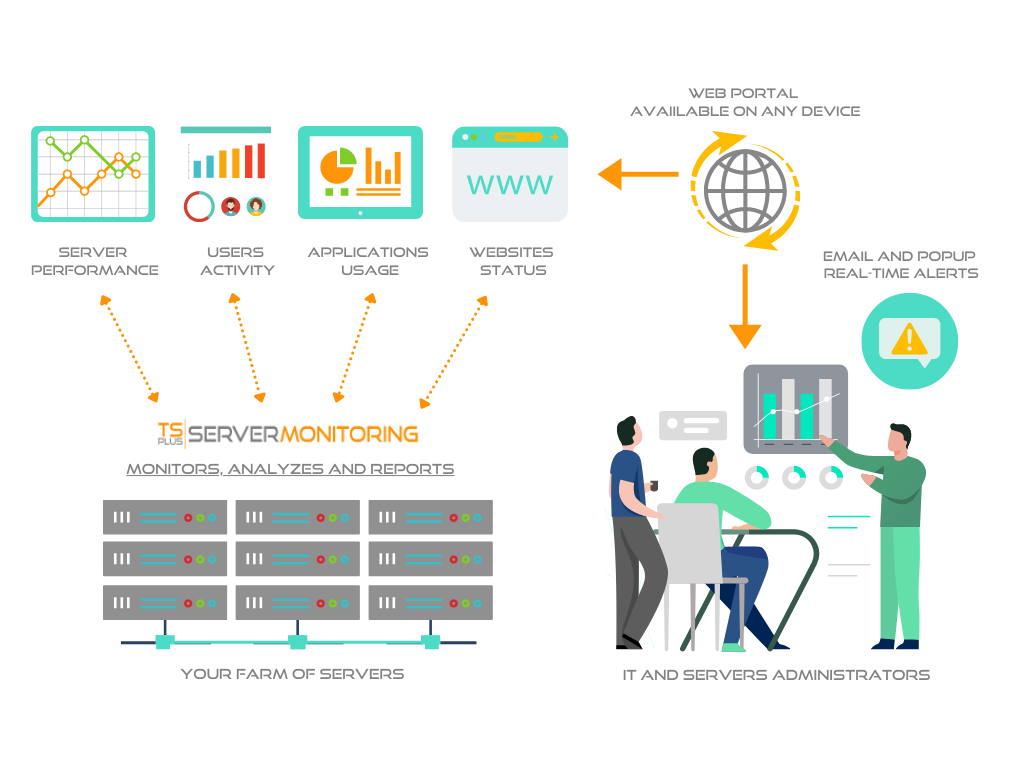 FACILE DA CONFIGURARE E UTILIZZARE
Installazione in 30 secondi
Nessun designer di rapporti complicati
Semplice designer per rapporti complessi
Out-of-the-box, visualizza i dati più utili estratti dal tuo server e dal tuo sito web.
Usando Server Monitoring, risparmiate i soldi della vostra azienda monitorando le applicazioni con licenza "per utente" e rilevando le applicazioni con licenza eccessiva o addirittura il software inutilizzato!
Server Monitoring ti aiuta a ottimizzare le tue risorse software e a ridurre i costi inutili.
Server Genius helps you discover quick wins such as moving some users from overloaded servers to an under-used server, and planning for the long-term your IT infrastructure evolution.
Thanks to smart and easy-to-read reports, you can increase your server's performance and your users' productivity!
Server Genius gives you facts and data about your server usage (CPU, Memory, I/O, Disks), applications usage and users' activity on Remote Desktop Services.
Get historical and real-time detailed reports on your website health, availability, performances and responses.
Server Genius allows you to track activity, resource usage and events with real-time email and web alerts that are customizable.
Don't wait for your users to complain! Monitor your server for unexpected usage spikes, and site for long time responses or downtime duration.
USER-FRIENDLY WEB INTERFACE
Quickly check all your reports anytime and anywhere with our user-friendly Web Application accessible with any browser.
Server Genius Web interface is fully compatible with all devices, including tablets (iPad, Android, Surface…) and mobile phones (iPhone, Android, Windows…)